ANTIPASTI FREDDI (Cold)
Mozzarella Caprese
Fresh sliced mozzarella over tomato with black olives, fresh basil, olive oil and balsamic
Shrimp Cocktail
Jumbo Shrimp, cocktail sauce and lemon
Bruschetta Toscana
(for two) garlic toast topped with marinated tomatoes and basil.
Caesar Salad
Smoked Trout
With capers, onions, lemon, and Remoulade Sauce
Soups
Pasta Fagioli (Famous Classic Italian Bean) ~ Tortellini in Brodo (DiPollo) ~ Zuppa Carmagnola (Chicken broth, spinach, egg, cheese and a touch of tomato sauce)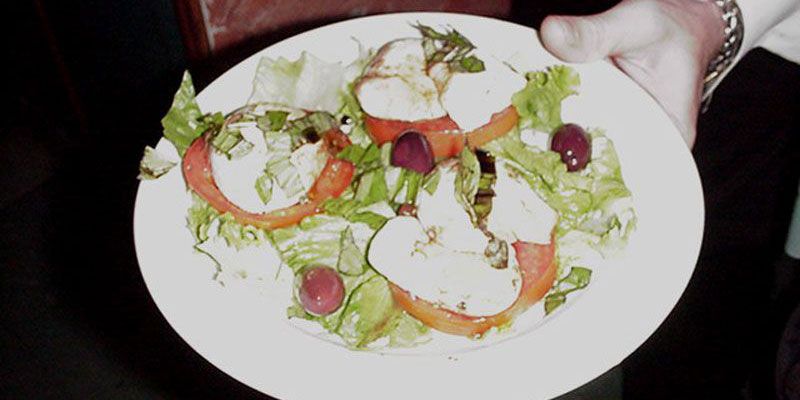 ANTIPASTI CALDI (Hot)
Classic Brie
Baked Brie cheese with garlic bread, butter and pesto sauce
Polpetta Marinara
Meatballs topped with marinara sauce and cheese
Cozze Posillipo
Mussels with garlic, red or Fra Diavolo sauce
Calamari Fritti
Fried squid with zucchini and hot Marinara sauce
Mozzarella Bella
Fried mozzarella with garlic butter served with Marinara sauce
FARINACCI (PASTA)
Agnolotti Principessa
Ravioli stuffed with ricotta cheese and spinach, in sundried tomato and asparagus cream sauce
Penne Vodka
Pasta with Italian bacon, onions, basil, cream sauce vodka, and a touch of tomato
Cheese Tortelloni Pesto
Tortelloni with cream and touch of pesto sauce
Capellini Shrimp & Scallops San Pietro
Angel Hair with shrimp and scallops, mushrooms in Aurora or red sauce
Linguine alle Vongole
Linguine with clams in red or white olive oil clam sauce
Linguine alle Pescatore
Linguine with shrimp, scallops, clams, mussels, calamari in Marinara or fra Diavolo sauce
Gnocchi Gorgonzola
Italian dumplings with spinach, ricotta, gorgonzola cheese, cream or pink sauce
Capellini Italiano
Angel hair with homemade marinara sauce
Lasagna
Layered pasta with meat, cheese and Aurora sauce
Eggplant Parmigiana
Sliced Eggplant with topping of Marinara Sauce and mozzarella cheese
Scampi Fra Diavolo
Gamberoni Shrimp with spicy tomato sauce over linguini.
Spaghetti Alla Carbonara
Sauteed onions, bacon with egg yolk and cream sauce.
Spaghetti Bolognese
With meat sauce
Add Meatball or Sausage
All dinners come with bread and butter, house salad side pasta.
POULTRY
Pollo Scarpariello
Sauteed Chicken breast and sausage with mushroom, white wine, and lemon butter sauce
Pollo Fiorentina
Chicken breast sauteed with onions, topped with spinach, mozzarella cheese, a touch of brandy and cream sauce
Pollo Parmigiana
Breaded Chicken with Marinara Sauce and mozzarella cheese
Pollo Milanese
Breaded Chicken topping with Chef's Special Salad and cheese
Pollo Marsala
Chicken breast sauteed with mushroom, sweet Marsala wine and demiglaze
Pollo Piccata
White wine, capers, lemon sauce and touch of cream
VITELLO
Veal Piccata
Veal with white wine, capers, lemon sauce and touch of cream
Veal alla Rosa
Sauteed Veal with bacon, mushroom, vodka cream with a touch of red sauce
Vitello Sorrentina
Veal topped with prosciutto, eggplant, mozzarella with tomato sauce and a touch of demi sauce
Veal Di Vitello Carino
Veal sauteed with onions, garlic, Shitake, mushrooms, artichoke hearts, rosemary, white wine sauce and a touch of demiglaze
Veal Parmigiana
Breaded Veal with Marinara Sauce and cheese
CARNI
Rack of Lamb
Roasted lamb rack with garlic, rosemary sauce, and topped with dijon mustard and bread crumbs
Filetto Al Pepe Nero
Beef tenderloin with crushed pepper cognac sauce
Filetto Marsala
Sautéed onions, mushrooms, roasted red pepper and brandy cream sauce
PESCE
Snapper Livornese
Snapper with onions, capers, black olives, and a touch of tomato
Salmon Alla Genovese
Fresh Atlantic Salmon, sauteed with white wine, and a touch of pesto cream sauce
-Your Choice of Pasta or Vegetables -
** Warning - Consumption of Raw Fish or Meat is Not Recommended **
BEVERAGES
Espresso
Milk
Cappuccino
Juice
Coffee
Lemonade
Hot Tea
Saratoga
Iced Tea
Saratoga Sparkling
Soda
DESSERT
Your choice from the dessert table (each)
Tiramisu ~ Cream Puff ~ Cannoli ~ Limoncello Cake ~ Chocolate Mousse
Your choice of Sorbet or Spumoni
Lemon ~ Orange ~ Pineapple ~ Chocolate Tartufo ~ Spumoni Bumba ~ Spumoni
CHILDREN'S MENU
For Children Up To 10 Years
Choose Your Pasta
Spaghetti ~ Linguini ~ Penne
Choose Your Sauce
Marinara 12 ~ Alfredo 15 ~ Aurora 15 ~ Meat Sauce 15 ~ Meatball 15
Chicken Parmigiana (with side of pasta)
A party of six or more - Gratuity of 18% added.
Carino's provides catering service, and welcomes groups. Carino's restaurant is the ideal location for birthday parties, wedding rehearsal dinners, family get-tocial occasion. Join us and enjoy the best Northern Italian Cuisine in Pinellas County!
For Take out / Pick up Service – Call Carino's 727-360-8502